A year ago I quit my job and ran away. But I didn't join the circus.
I knew it was time to put my career on hold and take my heart home.
I ran away from cubicle nation.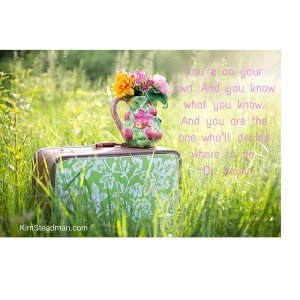 When it's time for a radical career change
I was completely doing it for selfish reasons. I had become what some may describe as a workaholic, but I think it was much deeper than that. I had a love for the company I worked for that went deeper than just an 'employee'. I had seen it's growth in 16 years from 3 people in the office to when I left, almost 400 employed people. I felt like a little mother hen and try as I might to shake that mother hen mentality, I couldn't. I cared TOO much. I was committed. But, it was hurting me physically. Combined with other personal issues such as aging parents, lots of land to take care of, emotional healing due to son's attempted suicide, onset of peri-menopause, and other things the bottom line was that my life was a little too full. This was an instance where an overflowing cup would not be good and I knew I needed to empty some of my cup.
My husband and I had been talking about this 'cooling off' time for almost 3 years. The day I handed in my resignation, I didn't even warn him. I had been trying to coordinate the time with my two bosses (I dual reported) for almost the entire month. Trying to get the 'perfect' time was almost impossible. But, the perfect day found me and I handed in my resignation and a 4 week notice.
My first day of I promised myself a few simple things:
I wasn't going to jump right in to any other career, because I needed to give my heart, mind, body and soul time to heal.
I wasn't going to commit to any groups, organizations or clubs. The whole idea was to decompress from the "commitment" vice that had gripped me for so long.
I was going to spend lots of time reading.
I was going to spend a lot of time writing.
I was going to spend lots of time enjoying nature.
I was going to spend precious time with my aging parents.
I was going to allow myself to explore 'things' and those things would be defined as they came to me.
I didn't realize how much of a life-changing experience it would be. As I reflect on the last 50 weeks I'm amazed at some of the changes that have occurred.
I realize that I became a student again but I can't quite put my finger on what I became a student of. Time? Life? The world?
I suppose that could be it. I became a student of the world. But I'm not talking about a world traveler learning about different environments.I became a my own student of my world – my life.
I began to have a deeper appreciation for nature than I've ever had. I've always enjoyed being outside and just puttering around planting a plant here or there, walking in the fields, or watching birds.
I've taken the time to actually sit still and quiet for an hour, with my eyes closed and not sleeping, to just listen to all the sounds around me. I've discovered sounds of grass rustling and birds eating seeds in the trees, and just how far I can hear the thumping of a woodpecker pounding on a rotted tree. Moments like that absolutely rejuvenate my introverted soul.
I've read 20 books in the past 11 months and varying subjects. I remember as a child that I used to play "librarian." I had all my little books in my room and put index cards in them so that my dolls could check them out. I would even convince my neighborhood friend and her little sister to play with me. My personal practice since 2008 has been to read 10 pages a day from a good book. I continued that practice but I expanded my subject matter on topics I wouldn't usually have taken the time to read. I've discovered I have a huge fascination for the brain and happiness. The both are so tightly interwoven that it's almost scary.
I experienced time travel. I look younger. I've had several past co-workers who had not seen me in 10 months tell me that I looked 5 or 10 years younger. That's a compliment every woman likes to hear!!
I could write more about my discoveries and revelations over the past year.
But what it boils down to is this.
Life is a classroom and I am the student. I was too busy before to enjoy the lessons that were all around me. I was focused to a fault. It led to the ultimate life killer – Stress.
Taking time to cool off from a career has allowed me time to appreciate, not to sound cliche, more about life – the real life that truly matters.
My time away has allowed a wonderful journey of self-discovery.
My journalism class from high school taught me that any good journalist gets to the heart of the whole story by asking utilizing the skill of asking the 5 W's – Who, What, When, Where, and Why.
I've refined that skill and applied it in my own life.
Is it time for you to quit your job?
If you are in a rut of answering endless emails, attending endless meetings, trying to stay on the hamster wheel of success then I encourage you to ask yourself the following questions:
1. How do YOU define success?
2. WHO are YOU?
3. WHY are YOU here?
4. WHAT do you want to accomplish?
5. WHEN do you want to do it?
6. WHERE do you want to make an impact in life?
If you can't answer all those questions with 100% wonderful self-satisfaction, then you are living in a life of dis-satisfied. A life of dissatisfaction can absolutely ruin a person's health.
Take it from one who NOW can say I'm Finally Fulfilled!
If you are feeling that dissatisfaction, I may have something that could help you. Check out my coaching package Finally Fulfilled!
Hugs and feathers from the nest~~()~~

Kim Steadman is the Content Curator and COOP (Chief Online Operating Person) for The Re-Feathered Nest, a place of encouragement for women who are ready to RePurpose and ReDesign themselves according to God's purpose for their lives now that the kids have flown the coop. She is the author of the soon to be released book ""My Little Book of Empty Nest Quotes & Wisdom.' Kim can be found on Facebook at https://www.facebook.com/TheRefeatheredNest and on Google+ at +Kim