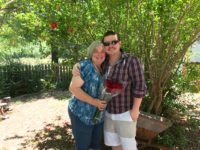 When Mother's Day hurts, sometimes we moms don't want to admit it. This year I went against the grain. I posted in Social Media on the day after that I really "got it" when some women say they dread Mother's Day. Mother's Day hurts. The family gathered with the kids,…
Have you met Denver, The Recycled Dog?
He was abandoned. We rescued him. Before we knew it, we fell in love with him and adopted him and we weren't looking to add a new member! Follow the trail to meet him!
HERE