Books!  Books!  Do you love books? Are you an avid reader with limited bucks in your book budget? Do you want to read inspirational, encouraging and helpful family & Christian based books (both fiction and non-fiction)?
If you answered yes to any of those questions, I would like to invite you to join my team of book reviewers.  As one of my reviewers, you can read my books for free in exchange for posting a review on Amazon.
How Do Review Copies Work?
Sign up below to be placed on the book review list.
Choose the first book you would like to read and review in my book list. I'll send you detailed directions on how you request a book once you sign up below.
If at all possible, please post your review on Amazon within 2-4 weeks of receiving the book.  I understand that life happens, your world is busy  and emergencies can happen. But I do ask you to do everything you can to keep your commitment.
If you are on Goodreads, please add the book to your collection and post your review on Goodreads, too!
Please make sure to note at the end of your Amazon review you received a free copy of the book in exchange for your honest review. This is an FTC guideline and part of Amazon's terms of service.
You can write something like this:
"Please note: I received a free copy of this book in exchange for my honest review."
From time to time, as I'm made aware of other author's free books, I will let you know about those as well.
Kim's Current Book List
The Creative Prayer Journal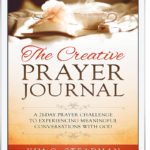 The Diary of a Recycled Dog